Embedded Finance in Healthcare Industry in India: Collaboration with FinTech and MedTech Companies
In India, health insurance poses a dismal picture. Around 62% of total health expenditure in the
country is borne as out-of-pocket expenses. This is because every 3 Indians out of 4 lack the cushioning of health insurance. Lack of awareness and inadequate insurance coverage contribute significantly to out-of-pocket health expenditures. Indians are often forced to dip into their savings or borrow when facing a medical emergency. However, the situation doesn't have to remain so fraught. As a MedTech company, you can adopt embedded finance as a viable solution to offer beneficial services to patients.
Let's explore the embedded finance in the healthcare industry in India.
What Does Embedded Finance Refer To?
Embedded finance refers to the incorporation of a financial solution into the infrastructure of a traditionally non-financial business. It enables a customer to access financial services, such as insurance, processing of payments, lending, etc., without having to redirect to third-party sites. In other words, the system turns into a bridge that connects a financial service provider, customer, and brand. This eliminates the need for your business to invest the time, effort, and expense required to build an entire dedicated FinTech solution to serve your customers.
In healthcare, you can combine insurance with embedded finance to offer customers an instant credit line for paying healthcare expenses effortlessly.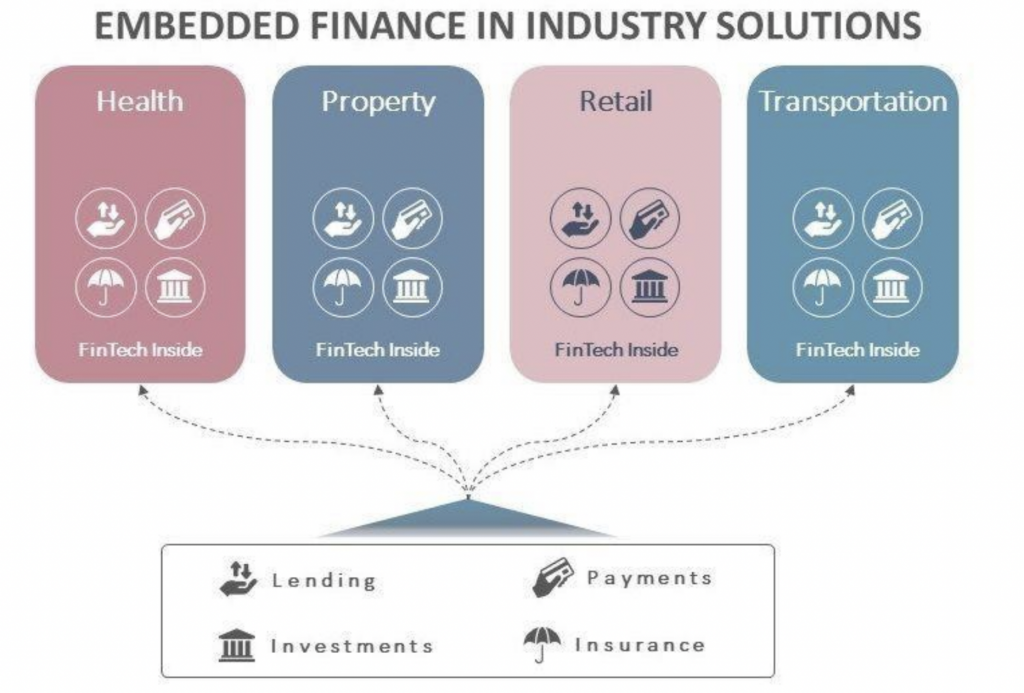 Major Ways to Embed Finance in Healthcare
There are three major ways to embed finance in healthcare and provide access to credit products to customers. They are:
Via Healthcare Provider
Hospitals can provide patients' finances at the point of care by teaming up with an embedded finance provider. The embedded finance provider can make an upfront payment to the hospital for patient invoices and allow patients to repay through installment-based payment plans at zero to nominal interest. This will require hospitals to share patient data with lenders.
Via Employer
Employers can enable healthcare funding support for their employees as part of their acquisition and retention strategy. They can do so through HR Tech platforms. Employers can use employee data they possess to underwrite and increase approval rates. The lender can get repaid on time through deductions from employees' salaries.
Via Direct Sales
Retail platforms or B2C apps connecting patient parties with medical care providers can get in-context credit under the buy now pay later policy. These direct sales apps or platforms leverage embedded finance to ensure a better user experience and improve customer retention, leading to increased transactions.
Benefits of Collaboration between FinTech and MedTech Companies in India
Collaboration between FinTech and MedTech companies in India can offer a plethora of benefits for all parties concerned. Some of the major benefits are:

Accelerates Payment Process for Medical Services
The payment process in the healthcare sector suffers from several challenges, such as payment verification issues, misplaced receipts, and other human errors. FinTech companies enable seamless payments for healthcare services. This accelerates the payment process. The improved transparency around payments enables patients to claim and receive compensation easily.

Accessibility of Advanced Analytics
Machine computation, AI, and analytics remain at the core of FinTech companies. Deep Learning and AI include steps that enable the catching of information. In the medical sector, technology enables information-driven dynamic searches and accessibility of advanced analytics in the Payments and Financial Administration sections. For example, technology can help carry out dynamic searches to get access to information like how fraudsters try to access information about buyers.

Improves Data Security
Keeping patient data secured is a primary concern of healthcare facilities. They are under constant pressure to invest in the latest cybersecurity tools to prevent patients' private information from passing into the wrong hands. This can become a significant challenge when undertrained or untrained workers handle such data. Fintech solutions enable healthcare facilities to improve data protection and security significantly. Blockchain and other methods help secure patient information, such as phone numbers, credit card details, etc.

Ensures Better Financial Solution
Integrating fintech solutions into the healthcare industry improves the latter's patient-centric approach. Fintech technologies provide personalized payment plans depending on the requirements of patients. This helps to build a bond of trust between patients and healthcare providers. Patients also get a choice of options, which didn't exist in the past.
Embedded finance opens up opportunities to redefine the functioning of the healthcare sector as far as the financial aspect is concerned. It enables FinTech and MedTech companies to come together and fulfill the specific needs of patients. The amalgamation also helps the healthcare facilities function smoothly and provide better patient services. In short, embedded finance creates a win-win situation for all by enabling quick and efficient financial services.